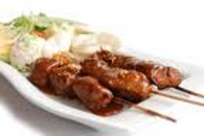 Chicken satay its a grilled diced or sliced chicken its oftenly used bamboo skewers.its grilled over charcoal fire, then served with sweet soy sauce or peanuts sauce with various seseoning.
Chicken satay recipe
Edit
500gr deboned chicken breast, cut in the small cubs and then skewered
5 shallots (peeled)
3 cloves garlic (peeled)
1tbs corriander powder
marinete skewered chicken cubs with a little water and seseoning for 2 hours
grilled the marinated skewered chicken, grill 3 minutes for each side
Serve the satay with peanut, sweet soy sauce, and rice cake
Sweet soy sauce
Edit
sweet soy sauce
1 shallot (peeled)
1 chilli (peeled)
mix the soy sauce with shallot and chilli and serve it in same plate as the satay
Peanut sauce
Edit
Rice cake
Edit
Ad blocker interference detected!
Wikia is a free-to-use site that makes money from advertising. We have a modified experience for viewers using ad blockers

Wikia is not accessible if you've made further modifications. Remove the custom ad blocker rule(s) and the page will load as expected.