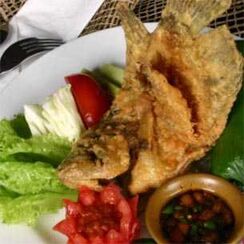 Deep fried gourami is very common in Sundanese restaurant and Indonesian restaurant outside Indonesia.Deep fried gourami commonly served with sauce made by sweet soy sauce,chilli,and shallot.
500gr fresh well cutted gourami or snook fish fillet
2 garlic cloves, crushed
2 shallots cloves, crushed
wheat or rice flour (additionally)
marinte the gourami fish or snook fish fillet with garlic,shallot,and salt
after 30 minutes coating the fish with flour and fry it, or you can directly fry it without coating.

serves 3
Ad blocker interference detected!
Wikia is a free-to-use site that makes money from advertising. We have a modified experience for viewers using ad blockers

Wikia is not accessible if you've made further modifications. Remove the custom ad blocker rule(s) and the page will load as expected.