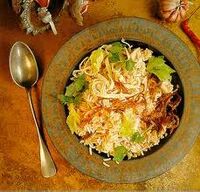 Nasi goreng or fried rice is a popular rice based dishes in Indonesia its very common and easy to find it specially at night when fried rice street vendor is very common.
Nasi goreng made by cold cooked rice and stir fry with common spices like garlic, shallots, spring onion, and don't forget to add salt. sometimes sweet soy sauce(kecap) and fermented shrimp paste (terasi) also added.
Nasi goreng recipe
Edit
100 gr cold cooked rice
1 garlic cloves, crushed
1 shallots cloves, crushed
2 tbs cooking oil
spring onion
1 tbs sweet soy sauce
1 teaspoon salt
Add the cooking oil and let it until heated
add the spring onion,garlic,salt,and shallots
add the rice stir for three minutes
at the last add sweet soy sauce
your fried rice is ready to serve

serves 1
Ad blocker interference detected!
Wikia is a free-to-use site that makes money from advertising. We have a modified experience for viewers using ad blockers

Wikia is not accessible if you've made further modifications. Remove the custom ad blocker rule(s) and the page will load as expected.